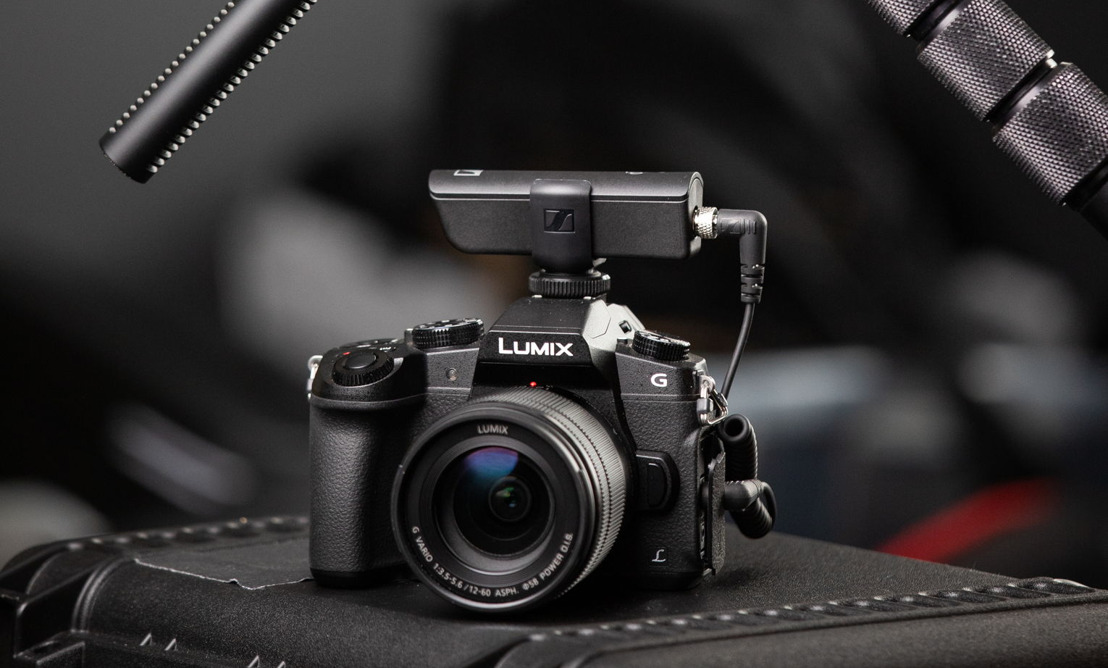 Improve your video in a snap with Sennheiser
Next Sennheiser Panasonic LUMIX seminar to focus on mobile journalism
Wedemark, September 4, 2019 – Do you have some experience in mobile journalism and want to learn a few more tips and tricks of the trade? Or perhaps are completely new to mojo-ing and want to build a solid foundation? If so, the latest webinar by the Sennheiser Sound Academy and the Panasonic LUMIX Academy is just what you need. This special session for mobile journalists, which has now been moved to the new date and time of September 5th at 1 p.m., will provide essential insights on choosing a camera, the optimum set-up and the right audio equipment. Speakers will be Daimon Xanthopoulos, LUMIX Ambassador, and John McGregor of the Sennheiser Sound Academy. To register in advance, please go to https://zoom.us/webinar/register/d0a5077281ff739966858a512be5123a. The webinar is the second in a series of five live training sessions that the Sennheiser Sound Academy and the Panasonic Lumix Academy are providing to all videographers keen to improve their skills.
The second webinar in the series explores what you need to be aware of when you're out in the field with the camera, offers advice on framing and provides guidance on what microphone(s) and microphone accessories to carry with you for various recording situations.
But it's not all dry theory – the Sennheiser and Panasonic Lumix team will demonstrate some typical traps in a live interview situation to you – and show you how to confidently overcome these challenges.
​
​After registration at https://zoom.us/webinar/register/d0a5077281ff739966858a512be5123a, you will receive a confirmation e-mail containing more information about how to join the webinar.
​
​Towards the end of the seminar, you will have a further opportunity to ask individual questions to the seminar speakers.
​
​The next webinar dates and subjects are now as follows – please do note that there have been changes made to the details that have previously been communicated:
​
​Webinar 3 – now on October 17th, 1 p.m. CESTTarget group: Video Bloggers (Vloggers)
​Tips & tricks – Choice of camera, set-up & audio tips and tricks, including lighting, framing, etc
​
​Webinar 4 – now on November 14th, 1 p.m. CETTarget group: Documentary/Film
​Tips & tricks – Camera set-up (including multicam setup), field recording & audio tips and tricks
​
​Webinar 5 – now on December 12th, 1 p.m. CETImmersive audio for video - get to know the Sennheiser AMBEO portfolio and learn how to link it to video production.
​
​The Sennheiser Sound Academy and Panasonic LUMIX Academy look forward to welcoming you to the webinar on 5th September!
Registration link for the webinar: https://zoom.us/webinar/register/d0a5077281ff739966858a512be5123a
ABOUT SENNHEISER ELECTRONIC CORPORATION
​Shaping the future of audio and creating unique sound experiences for customers – this aim unites Sennheiser employees and partners worldwide. Founded in 1945, Sennheiser is one of the world's leading manufacturers of headphones, loudspeakers, microphones and wireless transmission systems. Since 2013, Sennheiser has been managed by Daniel Sennheiser and Dr. Andreas Sennheiser, the third generation of the family to run the company. In 2018, the Sennheiser Group generated turnover totaling €710.7 million.
About Panasonic
​Panasonic Corporation is a worldwide leader in the development of diverse electronics technologies and solutions for customers in the consumer electronics, housing, automotive, and B2B businesses. The company, which celebrated its 100th anniversary in 2018, has expanded globally and now operates 582 subsidiaries and 87 associated companies worldwide, recording consolidated net sales of 8.003 trillion yen (ca. 62.5 billion Euro) for the year ended March 31, 2019. Committed to pursuing new value through innovation across divisional lines, the company uses its technologies to create a better life and a better world for its customers. To learn more about Panasonic: http://www.panasonic.com/global.